Amita sits on the left side of the church with the other women in the congregation while the men sit on the right. Like most women in northern India, she is a second class citizen—even in the Christian community. For years she helped her husband, a pastor of a small church, with refreshments on Sundays but wanted to do more. Because she is illiterate she never had the opportunity to be trained for ministry—until recently.
They live in an area of India that is hostile to Christians. So not only is she held back by her lack of  education, but she also faces laws against sharing the gospel and possible persecution if she does. When a  Jesus Film training team comes to her area, hope is ignited in her heart. Could this possibly be the help that God has sent to enable her to share the good news with others?
The team starts the training and Amita's eyes light up. It's as if the Lord has brought this just for her, though she knows that the other fourteen women with her are being equipped to share their faith as well. Finally, she can be an active member of the church and help women like her be able to reach their community!
Because the training was designed for their specific learning needs, Amita and the other women learned how to reach out to women in their area and hosting small groups. She shares her  testimony and the good news of Jesus with any who will listen.   Several women have responded and she has even been able to lead groups and train other women like her to share. Her heart is overwhelmed to see what God has done in and through her to reach her  community, despite her limitations.
Thank you for your partnership with us and the part that you play in this ministry. Together, we are impacting countless lives around the world. We love you and are honored to be on the same team with you.
May God bless you and your family during this season and in the year to come!
In His love,
Eric and Allison Foster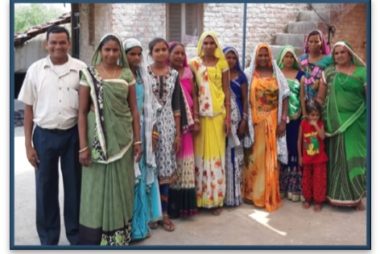 Next Steps...
This is should be a prospective customer's number one call to action, e.g., requesting a quote or perusing your product catalog.