Arbogast was a fisherman on Lake Victoria in Tanzania. After coming to Christ in November of 2017, he began going to surrounding villages, showing the Jesus film. After showing "Jesus", he shows the "Walking with Jesus" follow-up series week after week, teaching the new Christians more about the Lord and how to live their lives for Him. Through his work he has led numerous people to Christ and formed small churches throughout his area.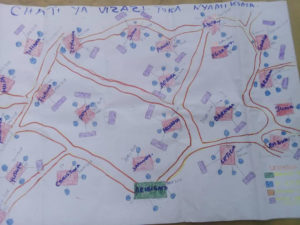 He trains the members of those churches to go to the nearby villages, doing the same. This has gone on for nearly two years and has grown into a church network of 16 generations. He recently draw a map of where his ministry has been active.
It is a little hard to read but the green dot is the original church he started in his home village. Red is a church in a nearby village. These are the first churches in each village. A blue dot is a Bible study in the same village that may become a church. The purple rectangles are second or third generation churches in the same village. Arbogast has truly become a fisher of men!
God is blessing his work as he remains faithful to sharing God's Word and surrendering his life to ministry. Thank you for your part in this story. By enabling us to minister to people like Arbogast, your investment is being multiplied throughout Africa and beyond!
Please pray for Arbogast's ministry, that the Lord would continue to bless his work and that local residents would be open to the Gospel, respond to the invitation to receive Jesus and be built up in their new faith.
---
Upcoming Ministry Trip 
Eric is preparing for several ministry projects including a trip to southeast Africa in November. He and his team will train local ministries on how to bring scripture, the Jesus films, follow-up films and other biblical resources to remote areas that currently do not have access to them. In these areas without internet connection it is hard to obtain the resources needed for ministry. His team will teach local pastors and missionaries on how to use the "LightStream" WiFi box to download these resources onto tablets, computers and phones so they will be able to do outreach in remote areas, like Arbogast  has been able to do. We will share more about that trip soon!
Thank you again for your partnership. It is a joy to serve alongside you!
Much love in Christ,
Eric and Allison