From January 25th-30th, Eric and 3 others from the Jesus Film team took part in a week-long conference with CCC staff that live and work throughout Central Asia and the Middle East.
He trained numerous staff from the region on how to set up and use the "LightStream Pocket" wifi box, enabling them to bring and distribute biblical materials throughout their areas.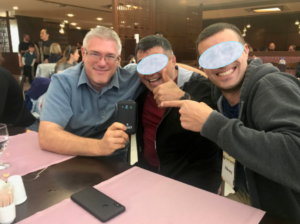 The response was tremendous. The staff were excited to be able to bring these devices back to their country and use them for their various strategies. We are beginning to receive stories from them about the results they are seeing and I will share more about them as they come.
Please pray for the staff around the world that are using the WiFi boxes - that this tool would be fruitful and enable them to be even more productive in spreading the gospel.
Please also pray for Eric and his team as they continue to work on this project, that the Lord will direct them and give them wisdom as they provide these resources to the Body of Christ.
While he was at the conference he also heard several encouraging stories about the use of "Rivka," the follow-up film series that he produced 8 years ago, focused on helping women in the Middle East learn about God's love and how to walk in their new faith. The series is now translated into 21 languages and is being used throughout the region to start Bible studies and facilitate church planting.
One of our staff leaders shared that recently his team tested the use of Rivka with a large group of men from the region. After the episodes, many of the men were weeping, came to faith and they began follow-up groups as a result! God is moving in the area and we are encouraged to have had a small part in the process.
We thank you for your prayers and faithful partnership!
Blessings and love, Allison