As my plane took off from the Angola airport a year ago, I reflected on seeing the Lord do amazing things during the week. My team trained women how to share their faith, ministered to local children and helped to make connections between the Cru staff and local pastors. We saw firsthand that God is at work in this amazing country.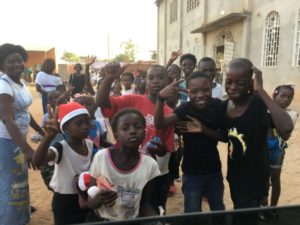 Recently a film team went to Angola to take "JESUS" to an unreached people group that lives on top of a remote mountain. What's normally a three-day hike up difficult, hard to navigate trails turned out to be a lot more than they bargained for. As they neared the mountain top on day three, one team member fell gravely ill and was in excruciating pain. They had to stop their journey and the team wasn't even sure he would survive.
On the morning of the fourth day, he awoke and had miraculously recovered. The team once again started climbing and finally made it to the top, reaching the village of 500 people… only to learn the people had planned to kill them! The chief told the team, "When we saw you at the bottom of the mountain, we knew it would take you three days. When you arrived, we planned to kill you. But then you stopped. We decided that if you continued climbing and came on the fourth day, you must have an important message for us. Please tell us what it is."Realizing that God had spared their lives, the team set up the film equipment and showed the Jesus film. The people watched and heard the gospel in their mother tongue. Moved by God's love and the gift of His Son for them, 350 people came to Christ that day! Today, there is a church on the top of the mountain. Amazing and marvelous!We have so much that we are grateful for, including you! Thank you so much for investing your time, prayer and resources so that we can serve the Lord with the Jesus Film. As always, our prayer is that as you have read the stories throughout the year of God's powerful love and Word, that you are excited to be a part of writing the stories.God bless you abundantly!
In His love,
Allison