Jummai reluctantly took a seat as the first session of the conference was about to start. Her brother had been chosen to represent their church at this "Magdalena: Released From Shame" and "Walking With Jesus" training conference, but he could not go because of his job. So he convinced Jummai to take his place.
She didn't know why she agreed to come; she had lived a life of prostitution and felt she was somewhere she didn't belong. As the conference progressed, the Holy Spirit worked on Jummai's heart, and she started to feel the training was meant specifically for her.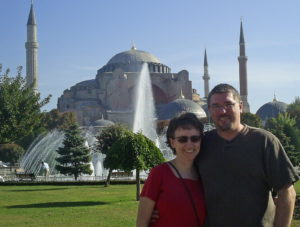 At the end of two days, the training team passed out DVDs of "Walking With Jesus"—a series of five dramatic episodes that Eric produced which illustrate what happens when an African chief meets Jesus and experiences the life-transforming work of the gospel. They issued the participants a challenge: show "Walking With Jesus" to others.
Jummai invited her neighbors to watch the first episode, skeptical anyone would show up. To her surprise, several took her up on her invitation. As the episode finished, they begged her to show the rest. Jummai was pleased to see their interest, but she challenged them to come back the next day for more.
Later that week, Jummai sat in her living room studying her Bible. A friend appeared at the front door and was shocked at the sight. Staring at Jummai, the woman said, "What are you doing? I can't believe it! You mean you will handle a Bible?" Jummai saw this as an opportunity to tell her friend what Christ had done in her life. Now Jummai leads devotions in their home, and neighbors show up to watch the episodes and listen to the Word. Slowly a community of faith is growing and inviting others in.
Eric is transitioning to a new role with the Jesus Film. He is going to serve as the Coordinator of Church Planting Resources. He will facilitate the awareness and supply of discipleship and church planting resources like "Walking with Jesus" to CCCI staff and global partner organizations. His role will be focused on making sure that ministries have access to these resources in their local languages are trained how to use them, so that churches can continue to be planted all over the world and everyone have a chance to hear the Gospel!
In addition, I have also recently made a transition to a new role! I am so excited that I now serve Jesus Film by ensuring we have enough staff, that they are in jobs that are in line with their passions and abilities, and that they are healthy and cared for. When staff are in their best job fit and regularly ministered to, Jesus Film as a ministry can best fulfill the calling that God has given us to reach the world for Him. It is a blessing to be in a position where I can help our fellow laborers be equipped to have a more fruitful ministry.
Thank you for your ongoing partnership and prayers. We appreciate you and are honored to serve alongside you!