Access to the gospel and biblical materials is limited in much of the world. This is especially true in north Africa and the Middle East, as it is often illegal to share your faith and many governments do not allow you to bring any Christian books or materials into their countries. As a punishment for converting from Islam, new believers are often ostracized from their community, imprisoned or worse.
These conditions make evangelism and church planting difficult and dangerous, especially for outsiders in the area. So, how do we equip the church in these hard to reach areas with the tools they need to build the Kingdom of God?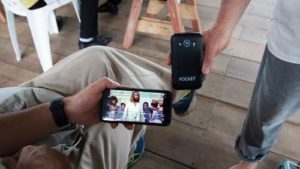 We live in a unique time in history. We now have the technology to store hours of film and tens of thousands of documents on an SD card that is the size of a fingernail. By God's grace, the Jesus film is partnering with a ministry that has developed a Wi-Fi device that uses this technology.
The "LightStream Pocket" is a device that is the size of a cellphone that can store up to 32 Gigabytes of data on an SD card and make that data available to others through a Wi-Fi signal!
We are able to load these devices with the Jesus film App, making the Jesus film available in hundreds of languages at the click of a button. Additionally, we can load follow-up films, bibles, printed materials, pastor training resources, etc. onto these boxes, allowing this content to be easily and discretely carried into hard-to-reach areas or areas that simply do not have reliable internet connections.
To use them, a person logs into the box on their phone or tablet, through a Wi-Fi signal and opens a browser. From there, the user can stream or download hundreds of films, download and read the Bible in multiple languages, read bible studies or other documents, and download other ministry apps onto their phones.
Then, they can walk away with the content stored on their phone and continue to watch or read the content they downloaded. Through these devices, Christians living in areas that have little access to biblical material are being equipped with the tools they need to share their faith with others.
Eric has been working with the developers of this technology and is helping make these tools to ministries around the world. He has recently prepared and sent them to China, Vietnam, Indonesia and Latin America.
From January 24th - 30th, Eric will be in Turkey, training Campus Crusade staff from 10 countries in the Middle East on how to use the LightStream Pockets for ministry. Please pray for his safe travel and that the staff would be able to effectively use the devices to reach millions throughout the middle east with the gospel.
We thank you for your prayers and faithful partnership!
Blessings and love, Allison